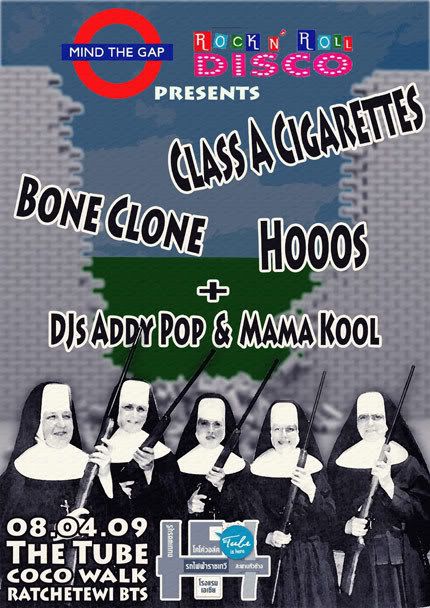 Last weeks show lacked the vibe for some reason, but I think this week we will be back on track.
Class A Cigarettes
are back again, they have a new drummer, so will be interesting if they can keep up the intensity they've been displaying recently. 
Bone Clone is DJ Spikensteins band , they've been getting their sound together for the last couple of months and are soon to go in to the studio to cut some demos. I heard them a few months back and they were sounding good...let's see if they will be sounding better?
Finally we have
Hooos
, I saw them play at the Livehouse last week and was impressed, the performance was a bit shaky(their first show I think) but there is something very cool about the band......make sure you check them out.
In addition to the bands we have our friends from Pai's uber cool Rock 'n' Roll Disco djing, so there is no excuse not to be here!